Just after I moved to the North West I hooked up with a bunch of folks racing at a track in Beaverton. When Randy, the owner of the track, saw my work. He gave me an old MRRC Essex Wire Cobra that had frustrated him and told me, "do something with it..." I'd been down that road even before MRRC put the monster 30K red can in it. The chassis had been broken and repaired. ""Do something with it"? I couldn't even salvage the drive shaft bearing (something I collected when I was using MRRC Cobra chassis for scratch built cars). I tossed the car in my "round to it pile"...
When the Pony Wars proxy announce there would be a class for A production American cars I felt maybe it was time for a resurrection. I decided on a Slotit HRS chassis (which I won in a proxy race), inline, which meant the original interior of the Cobra had to go... but not entirely. I cut some plastic card to fill the space and used half of the original dashboard and the trailing edge of the cockpit to finish out the new interior. I removed the oil cooler vent on the body (`never liked the way it looked), cleaned off all the bits that I didn't need, like the windscreen, license plate holder, filled the remaining holes and dumped all the chromed bits in ammonia for stripping. I cut down the exhaust pipes using the headers but adding aluminum tubing for the back part. I had bent aluminum tubing with a solid aluminum rod inside to make a more substantial roll bar.
Initially I planned to paint the car yellow and red, like my old Proxy Cheetah and use the Petrolati Brother's racing livery and #66, but I found a couple of jars of MCW "Pelham Blue" and Ermine "White" Lacquer (one of the Cobra racing colors) which changed that. The rules called for a "full windscreen" which my car didn't come with so I decided to scratch build a full width wind deflector. The front wheels and tires are from a Pioneer Mustang. The rears are BWA 32004s with turned down Pioneer American racing wheels for inserts. The driver is from a number of sources... the head and torso are from a LeMans Miniatures casting, the arms are from Proto the goggles were cut down from a resin "Smilin' Jack" driver's head. The build was fairly easy as I didn't have a lot of changes to make and the MCW lacquer can hide a "mutitude of sins". The decals were from my stash that I've collected over the years.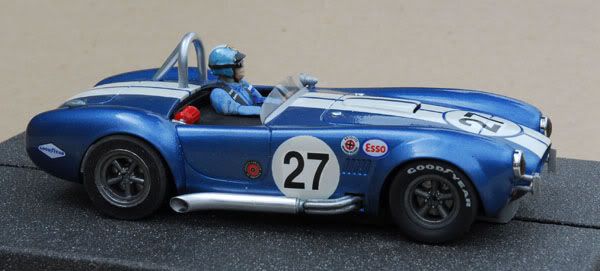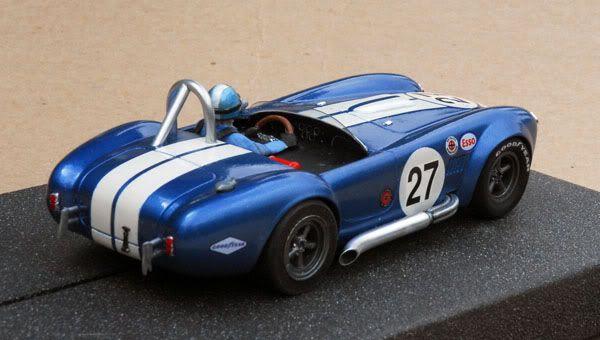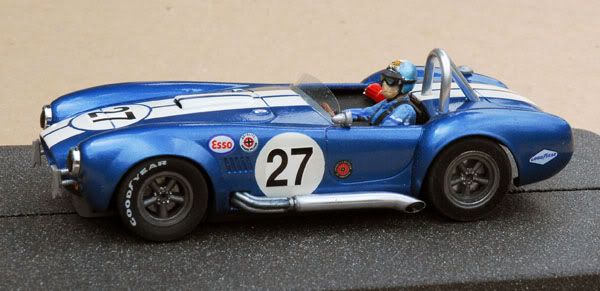 I had to withdraw the car from competition. I fell afoul of the windscreen rule which stated "a full windscreen"... which was clarified to mean "full width and taller than the driver's head." No prob... it's all good... I got a pretty nifty car out of the deal.
Greenman62