Discussion Starter
·
#1
·
Hi Chaps,
Here is a bit of fun for you;
When I was a kid I used to have the James Bond set with a black Mercedes that sprung off the track when hit on the bumper from behind.
This gave me an idea...could I make a modern car do the same sort of thing. The underpan of the Corvette looked like a likely candidate for alteration, so I had a go... and this is the result....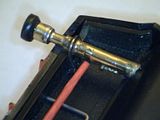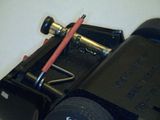 It works very well so far, and the kids love it. With the magnet it doesn't leap off, but it is disabled, as the wheels are lifted off the track.
Thanks to the chaps who helped me post these pictures.
If anyone is interested in more details let me know.
Cheers