Hi everyone. My name is Brian and I have been in this hobby for little over a year and I have learned a lot of valuable information from this forum. I honestly can't believe the amount of talented people there are on this forum. It has taken me some time to get the nerve to post this on the forums so I will try to keep this as short as possible and try not to bore everyone. Here is a little bit of background about Spring Valley International Raceway and pictures of my work in slow progression.
Earlier this year I decided to email Brad Korando and ask him how he made his pit building and to let him know that his work is out of this world and his style is the look I am wanting for my layout. After talking with Brad I realized that I only lived about 3 ½ hours drive from his house. So back in the first part of June this year, a friend of mine and I took a short drive and went to visit Brad and see his master piece in person. Wow…..his layout and level of detail is just incredible and seeing it in person was a real treat. I asked Brad if he would want to sell his pit building and I happened to be in the right place at the right time. Brad said he was really looking to make an older style pit building and that he would sell it. I got one HECK of a deal and now the very proud owner of his pit building.
My current layout is 6 feet by 14 feet, 4 feet shorter than it started out, that is another story. I went with the name Spring Valley because the town of Springfield where I live was originally called Spring Valley before the city was formed. I also wanted it to be an International track, so that way I can host almost every type of car racing on my track layout. As you can see below my current layout is flat on the table. Once I get the nerve to start working on the sub-base of the scenery, it will not be as flat. I plan on having the track cross over on one end so I can add a bridge and to give the layout some contrast as well as more functional competition when racing.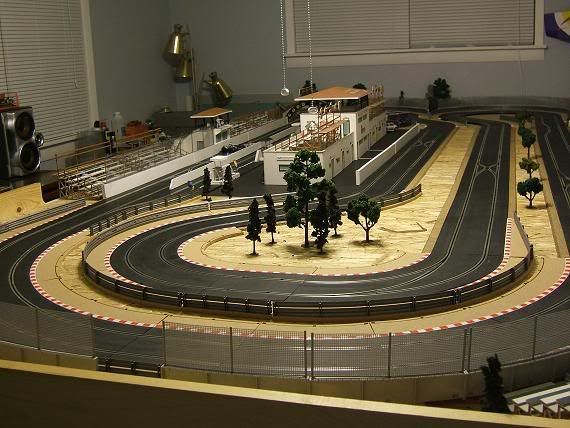 In the picture below you can see the first model I attempted after acquiring Brad's Pit Building. I wanted to use the same design technique that Brad did on the Pit Building to make the Start Finish Tower. I also wanted to cover up the powerbase to my track and here is the design that I came up with. I still need to add some small signs, posters and door knobs but all in all it is finished.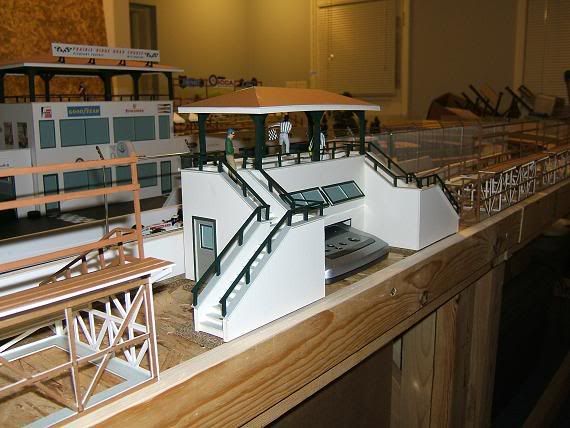 I really want my layout to look like a family/public type race park, so I needed places for the spectators to sit and enjoy the race. Brad's grandstand design is exactly what I needed, so I took his design and copied his grandstands and made an additional 6 grandstands. 2 on each side of the start finish tower and 1 on each corner of the big outside curve before the home stretch. I am currently designing foundations for the grandstands to sit on and to elevate them off the ground to allow the spectators to see the track easier.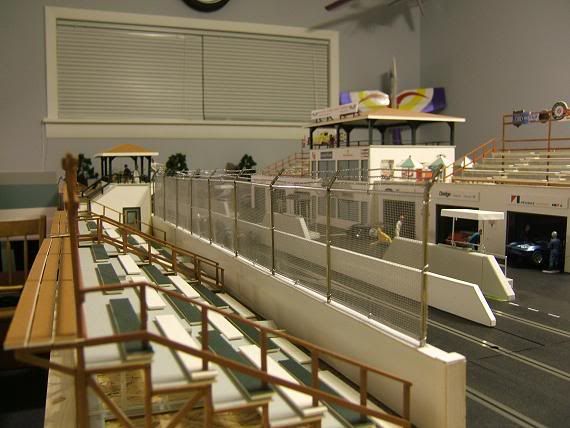 I also wanted safety fencing like you would see at a normal race park. I have a bunch of HO scale train track so I used the rails for the fence uprights and normal screen wire for the fencing, drilled holes in the end bent part of the uprights to allow cables (picture hanging wire) to run thru the top part of the fence. I like the way the fence turned out. However, it looks like barbed wire instead of cables on the top, so I plan on changing this someday down the road to look more like a realistic safety fence and use a small gauge chicken wire instead of screen, similar in design to someone else here on the forums, can't remember the persons name, sorry. I also plan on replacing all the plastic Ninco fence with hand made fencing as well.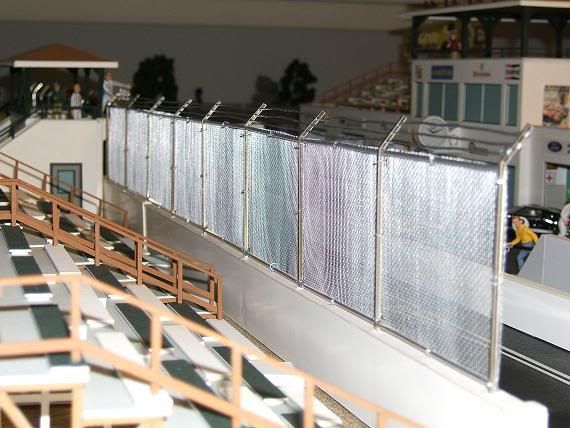 I have a long way to go to finish. I have several models to design and build; more realistic looking trees, restroom out-buildings, concession stands, 2 TV towers, multi-national flags, flag stringers, lighting and signage to add to the grandstands and a ton of figurines to add in the future. Slowly but surely I am getting there with the help of you guys and this forum. Sorry for my pictures not being the best, a photographer I am not. I hope that the pictures show up for everyone.
Now, after this long post I would like to thank everyone on this forum for giving their technical advice and sharing your detailed techniques, which have given me the knowledge to accomplish what I have done so far with my layout. And most of all, "Thank You Brad" for being my inspiration and mentor. I will keep you all posted on my progress.
Thanks Again,
Brian
"I don't know about you guys, but this Hobby has made me feel like a kid again, I am having such a blast! I just hope I can finish this project before I kick the bucket, hehe!"