Discussion Starter
·
#1
·
After running my old layout (shown below) for a year, I decided I needed to do a few things differently to make the racing better. The new layout incorporates over 20 R4 turns, and also has 4 R1 turns. There is now much improved visibility to all areas of the track and a better flow to the racing.
I also moved from a wooden surface with the track recessed into the ground level parts, to a carpeted table top and full borders.
I think in the long run, the new layout will work out better. In the space I have (11'10" x 6'2") there just isn't room for the type of scenic raceway I would like to have. By using the carpeted table, and some minor scenery elements around the track, I think I can still enjoy a good racing atmosphere. I also like the look of the Sport track with almost 100% border coverage. I'm still waiting for 4 packages of the straight borders so I can finish the front straight and the bridge.
Well, Here is the old SRP.. (51 feet equal lanes)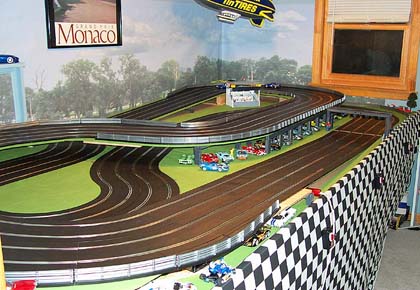 The upper level really restricted the view to the ground level track in many places. I also was using a pretty bulky overhead light system for the TrakMate lap timing sensors.
Now, the new SRP.. (44 feet equal lanes)
(cars shown at start / finish line)
I now use the "MrBugs" (Brent Carlson) sensor tracks so there is no overhead lighting required. The sensors are mounted in the rails! It is still compatible with my TrakMate software as Brent included a new cable that works just fine.
Here are more pictures..
I'm still building a couple grandstands and some brake markers. I also have another large batch of "Homies" coming. (Homies make great slot track figures, unlike slot specific figures that are expensive and come in just a few different poses, there are over 100 different Homie characters and they are CHEAP.)
The layout is powered by a TrakMate 30v (variable) 10a power supply and is wired up with a relay and track call buttons to shut power off from each driver station when there is a crash. I can't say enough about how easy the TrakMate system is to use.. love it and would highly recommend it.
Finally, here are a couple construction pictures that show how I built the up and down ramps and added camber to them.
Here's the Tracker file~
Thanks for the long read~ First club race is tomorrow