Discussion Starter
·
#1
·
Hi, this is Frankie!
some of you might know my scenery track "Albertona Raceway MK2"
https://www.slotforum.com/forums/index.php?showtopic=201905&page=1
There is one item amongst the scenery I would like to make a separate thread because it is an universal thing. I am talking about straw bales. A "must have" on every 60s slottrack scenery. They lay around unobtrusively on the track but are actually very important.
Many scenery builders have their own method of creating scale straw bales. Mine is very simple, fast and cheap. But I think they look quite realistic and also protect the cars on dangerous corners well.
This is how I made them:
the raw material is a mat consisting of coconut fibres and sisal fibres. I found it by chance while visiting a big gardening market center with my wife. She was looking for new plants and I was strolling along, actually a little bit bored, I'm not a gardening fan. This mats are usually wrapped around flower pots in the winter time to insulate the plant from frost. At least here in Mid Europe. I am not sure if they are available in for example Australia.
First you cut the material into stripes, then cut the stripes to pieces of the right length.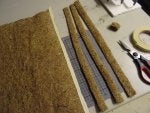 put together three or four pieces (depending on how thick your bales should be) and brush all four sides with a wire brush. It blends the transitions between the layers. You can trim the straw bale with small scissors to make it perfect.
Put a thread around (or not, they look good without threads, too) and that's it.
One mat ( 60 x 120 cm) is big enough for at least a hundred straw bales. I stuck them to the track by using a glue gun.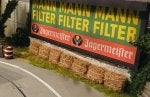 keep on racin'
Frank