Discussion Starter
·
#1
·
I couldn't resist this beauty I stumbled upon the other day. And out of curiousity I stripped it down to see what makes it tick and how a car of this size differs from its smaller and larger siblings. Quite a bit, as we shall see.
This car is modeled on the Le Mans-winning Porsche 917K from 1970, driven by Hans Herrmann and Richard Attwood. Overall shape, stance and detail of the body is surprisingly good for a car this size (1/43). Kyosho has done a real good job of catching "the essence" of the legendary 917, IMHO better than Fly has done in 1/32: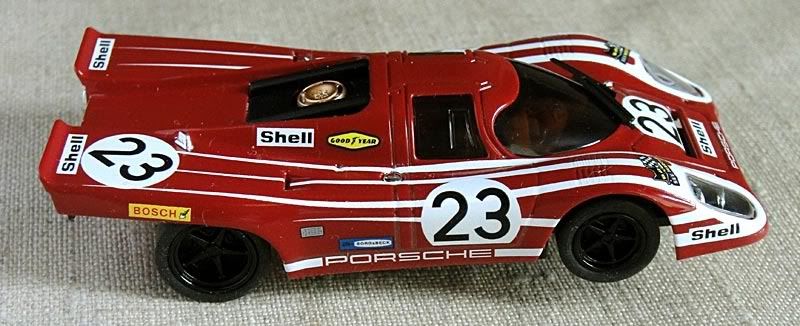 A look from below. The body is snap-on attached to the chassis in a similar way to most HO cars, i.e. you pry the sides of the body apart to align prongs in the body to notches in the chassis. The plastic seems sturdy enough to withstand a great del of abuse. The chassis is essentially in two parts, a black pan firmly attached to the body, with a sprung movable pod in clear plastic housing the driveline with motor and rear wheel/axle assembly.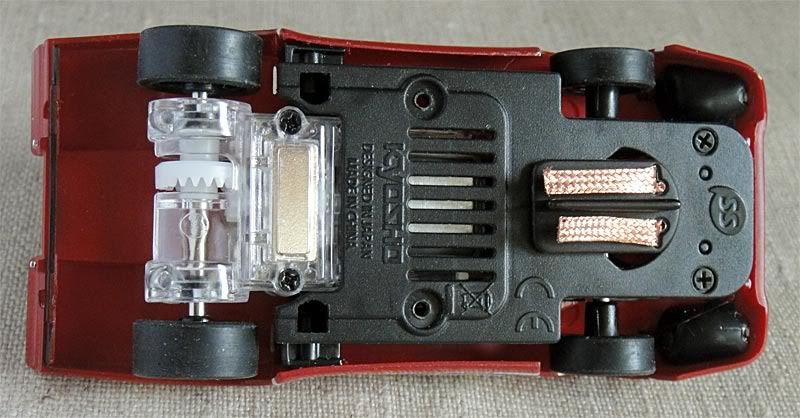 The top of the chassis differs slightly from pics I've previously have seen on the web (protoype?). What's striking is the amount of tiny screws that is used keep things together: Six screws only for the front axle, four for fastening the front axle assembly to the chassis and two for adjusting ride height and axle play. Spring tension in the rear can't be adjusted in an easy way, though: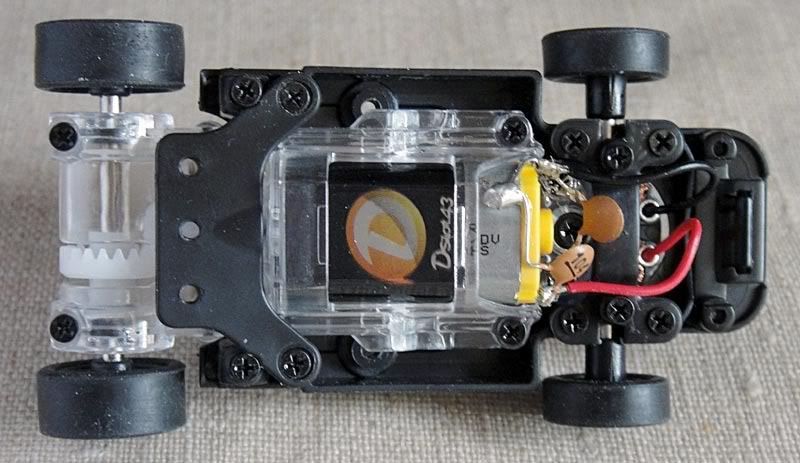 A somewhat odd feature is that the motor pod assembly by design is angled about six degrees upwards. Not very good for low CG and handling, obviously, but a necessity to make ends meet in the rear. As tire diameter is about the same as the height as the motor, there would be no ground clearance without angling the motor setup. To a degree this may be compensated by a neo magnet, though a tiny one and not very strong.
Chassis strip-down: No less than 23 screws (count them!) is required to keep a Dslot chassis togeter. Two long ones, four short ones and 16 medium ones. Plus an odd fine threaded one for the pick-up guide shoe.
The motor pod is a five-piece clear plastic affair with a black plastic pivot bushing up front. It also contains the traction magnet with shim (10 screws). The black pan chassis is only a single piece, but attched to this is the front notch/prong body mount, front axle assembly, rear spring assembly and of course also the assembled motor pod. (12 screws).
Front and rear axle assemblies are most likely not meant to be taken apart. I tried, but soon gave up of fear for breakage. Guide lead is non existant, as the pivot point for the guide is dead center of the front axle.
Good eyes, steady hands and a good amount of patience is no doubt required for maintenance and repairs of a Dslot. Also a good memory for putting the puzzle back again in good order.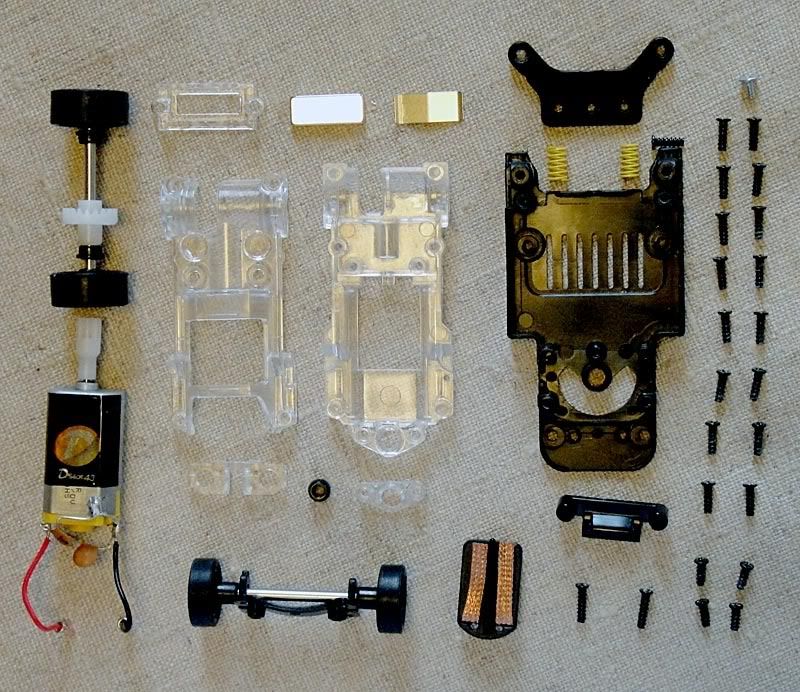 The Dslot is in all an interesting acquaintance. The question is how it will run on a regular 1/32 track...