Hello,
If you like to have an ultra wide curve in your plastic track, for some of you this might be interesting.
In general, plastic track only provides tight curves. Although they come in many radii, even the widest Ninco R-5 curve has a radius of only slightly over 90 cm. / 3 ft.
So what if you like to have a section with a real wide curve, a smooth "S" you normally only make in routed tracks? You might consider this.
On the left, a R2 and R3 Polistil curve. On the right, the A231 5 degrees curve piece. Though Polistil is primarily a well known brand in Italy, their tracks were sold all over Europe. It's the only brand that manufactured a plastic ultra wide 5 degrees curve piece with a radius of around 2.4 m./ 8 ft. To my knowledge there's no other brand that ever added such wide curve pieces to their track system.
With this track part you can make this kind of long, smooth and wide curves. What you see here is a 45 degrees bend, i used 9 pieces of 5 degrees to make it. This section is around 1.8 m. / 6 ft. long.
Though not produced anymore, they're still easy to find on (italian) auction sites and so. Also, quite some Italian slotrace clubs have 2/4/6 lane polistil tracks, often including this wide curve.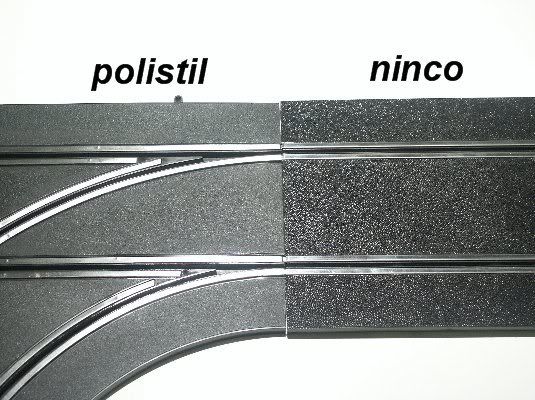 Polistil track fits easily on Ninco tracks, they have (almost) the same 90 mm. gauge. Also, on both systems the rails are insulated. All it takes is some filing and cutting away the track clips, and after that putting them together with hot glue or the Ninco metal clamps.
With the use of rail gum, you can polish even old and rusty 2nd hand track pieces back to a shiny and almost new state.
In the earlier pictures i used the old track pieces prior to cleaning/polishing. Here the result after rubbing them with rail gum (a well known product in the railroading community).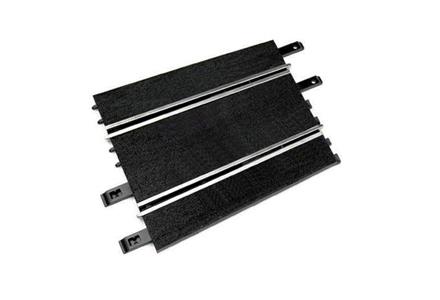 Converting track from Scalex to Ninco/Polistil, you can use the Ninco-Scalextric adapter track piece, formed like a slight chicane. Using this, you can incorporate an ultra wide bend in your Scalextric track.
Merc