Hello, to all readers!
The 1/32 slotcar world is getting a brand new model really soon!!!
And it will be a young LMP car, being the Oreca07 as mentioned in the topics title.
The introduction
We are building this pre-production model, to become the WEC LMP2 car from Team Signature (better known as Alpine A470) as raced at SPA 2019.
"We" being Steven Verelst (3D designer), Tamar Nelwan (Decal Designer and more) and myself (Just the guy that hopefully gets it all together at the end, to have a beautiful car to show and fast enough to win).
We hope to have this car ready to participate at Rockingham for the next 6hrs DiSCA WEC event.
I will allready show you a few pictures into this project, as this all started a few weeks ("months") ago.
First things first - 3D model
The first step of this project is to design a 3D model, which would be printable.
Steven doing an excellent job and still learning and perfecting his 3D modelling skills, gave us our first "test car".
This "test body" is actually designed to become something else then the Oreca07 that we are talking about at the moment.
But that will be for another time I'm afraid, can't tell to much about it now.
Just that this body is a bit wider then the Oreca07 we are designing (DiSCA WEC regulations).
I had the privilege of building this test car, we decided to make our own little version of the Dragonspeed Oreca07 testing at Daytona,
so it would represent our smaller scaled world a bit better.
Why this test car you may wonder!?
Well you can only tell so much from a picture, and this time the picture was a 3D model.
You actually need to have something in your hands, to feel and see the model and her curves!
(This sounds like it came straight out of a romantic novell, sorry).
And our own designed chassis needs to be tested, just to see if our ideas will actually work.
Phase 2 - Tweaking the 3D model and more ...
After we've build and tested the test car on the beautifull Ninco Suzuka track at SRC Eindhoven (Best, NL),
we noticed a few details that could use a bit more attention.
The things that will make it a lot easier for future costumers, to build this model into a stunning race car.
So for Steven it was back to the drawingboard and start tweaking his model.
At this point it was time for Tamar to start creating the decalset we would need to replicate the Team Signature Oreca07.
Just a "rough sketch" to start with was more then enough, but we received something a lot more then just a rough sketch!
Phase 3 - "white kit"
At this point Steven tweaked the body a whole lot, it was nearly a complete redesign!
Tamar and myself encouraged Steven day after day, to tweak this thing and redesign another.
But I'm proud to say, it all payed off.
The next picture shows how the Oreca07 body, probably will be as a model kit.
I could write a lot more on were we actually stand at the moment with this build.
But what better way then to just let pictures do the talking!
* Prefitting the livery design on the car (Tamar)
* Vacformed and painted interior, driver P. Thiriet
* Primers and colors (Tamiya spray can)
* Basic color scheme done
The "Final Chapter"
How the pre-production SV Workz Oreca07 is becoming the Alpine A470 of team signature.
We Finishid the body shell and put it to the test at the Rockingham DiSCA WEC event, that we attended a few weeks ago.
The decals were custom made by Tamar, it took him a few dozen "design, print, fit, repeat" stages, to get them fitted perfectly.
But the result we've received on just a piece of paper, the detail was all there and I was just stunned by this!!!!
We've got this set printed @slotfabrik and to my own personal opinion, one of the best in the business.
A few days later I received this nice thick white envelope and it had Slotfabrik written on it.
This was on last Wednesday morning, so unfortunately I had no time to get the car done in time to be used at the Rockingham event.
Steven took on the task, to give the body his final livery. He wasn't sure if he was the wright man for the job.
But after a few inspiring word, he had a go at it. As this had to be done all before Friday morning.
As you can see in the pictures, he did a cracking job but we still had a lot to do to get the car completely finished (smaller details stuff).
And off we were to Rockingham for her first shakedown, the "Rock Bull Ring" at the Rockingham Slot Car Club.
We didnt have a lot of practice on the Friday evening free practice session, as we had to finish the car first before it would hit the track.
So we had to put our bets on the official practice of Saturday evening.
We were struggling to find a setup that worked like we achieved at the Suzuka track from Eindhoven, different track - different setup.
By the end of this session we were about 0.4sec off the quickest P2 lap time, which was as well the quickest time overall!!!
But working and travelling with a slot guru like Tamar Nelwan, does has his advantages.
As he did the most R&D on the car during the tests at Suzuka, he already knew the chassis a bit better.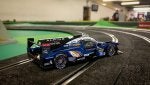 We had a good look at the car and tweaked a few things overnight, started from a scratch setup, and had a 1-hour qualifying session to get the car setup for the race.
The car felt better and more reliable then the evening before, and we were finally in the battle for the pole with the other P2 car from SportsCarRacing and the P1 Toyota TS-40 from Rockingham.
And with about 15sec on the clock, there it was "Pole Position" just a few hundreds of a seconds quicker then 2nd position.
Starting in front of the grid does have his advantages, but that doesn't mean you will finish the race in that position.
We just proved that the Oreca07 has the strength to put up a good fight in his first outing.
The race started with no more problems then usual, the pace was good; we maintained our spot and could stretch our legs in the opening laps to create a small gap.
But unfortunately, we did suffer some problems, as my teammate told me we weren't counting every lap.
This started playing in my head and we had a few de-slots, as I was more focussed on the problem. What did we miss or oversee that this was happening...
About 30 minutes in the race we were told that this problem didn't only struck us, but apparently all type B2 and C chipped cars...and that Race control was working on it.
They had been checking all missed laps by noting down every lap time that resembled a double lap time lap and checking them against the database log file. A most tedious piece of labour performed by Matt and Maurizio
But still, even though the lost laps would be corrected by half time and at the end of the race, for a long time we had no accurate info on what our exact position was compared to our competitors, some of whom where having similar issues themselves.
This being said, we had to focus on just putting in lap after lap after lap.
We both took on 1-hour stints, the car ran and felt great and reliable.
But disaster took over, after our first pit stop and changing tires from N18 to F22, the tires came off the rims after we went a bit sideways.
Tamar was there to quickly repair the car, but this incident did occur a few times until we noticed that this tire was torn a bit.
We had to pit again for another fresh set of tires and we could run these without any further problems, but we lost a lot of laps.
From this point on I even dare to say that our car was one of the quickest out on the track.
But the damage was already done for claiming any P1 position, weather it was a class win or an overall win.
So we could only hope that the though competition ran into any trouble at all, but this never happened.
The raced ended for us in a 2nd place finish in class and a 3rd place finish overall.
But we did win the concourse elegance, for us that is as important as any result!
We are all happy with the total result of this race and what we achieved over the last couple of months.
As we must not forget that this was the Oreca's first outing, in probably one of the most toughest and competitive digital endurance event you can race in.
We will finally share a few pictures of the P1 and P2 DiSCA spec chassis.
These both will go into R&D, for any further developments.
Thank you all for reading this looooong post
Kind regards Tom