Discussion Starter
·
#1
·
Last week a very good old friend got in touch to say, amongst other things, that he'd found an old suitcase at his Mum's house containing all his old slot cars. Now Tony James & I used to frequent the Richmond Vineyard, Nordic and Tottenham tracks circa 68/71. He was always a better racer and builder than I, and I mainly used to stumble around in his wheeltracks. Tony was very competitive at Tottenham, and made the final at at least one open meeting, and placed well in concours. He still has the prize ribbons in that suitcase stash. Now when I moved out of slot cars, I sold all my bits 'n pieces to buy my first sax. Tony was smarter- he built his own guitar and kept all his cars. We spent many many hours together in his garage, where he had a beautiful routed wood track, building cars and listening to John Peel, before the track got junked and we spent the time jamming Black Sabbath tunes instead. What bliss it was to be alive in those times...
So indulge, and hopefully share my nostalgia meltdown for the moment, chums, when Tony sent me this picture of the M8A he'd just dug out of his old suitcase;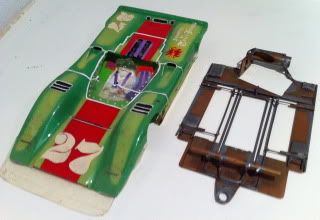 All the blood rushed to my head and pumped the riff to 'Paranoid' between my ears. Flashback alert!
At first I thought it was the car featured in the Model Cars issue from February 1970 that Phil Smith has kindly posted in another thread here. I remember it well- for us 16 year old kids to get into 'Model Cars' was as good as getting on Top of the Pops, but typically, Tony's car was wrongly captioned. He got the credit for someone else's. As his mate at the time, I shared both his pride and pain....
But on second look, this car is obviously not the one from that report- the November 1969 First British Arco race, but a slightly later one; same Tony paint work, but different number, and a different chassis.
Now the chassis is a bit of a mind blower for me. I really don't recall anything quite like it at the time (certainly 1971 at the very latest), with no drop arm, torsion (not hinged) plumber and pan movements, but still with 1/8" axles. But switch those axles for 3/32", and you have a very modern looking D3 frame with solid nose piece, etc. Why Tony built it that way, with no drop arm, I don't know, and he doesn't seem to remember, but it must have been pretty radical at the time. The last thing I recall building with him were the straight sidewinders that swept the board in '71, I think, still with drop arms and all sorts of complex and probably unnecessary hinges. I know the M8A body was obsolete by then- everyone went over to the the Ti22 immediately it arrived.
Tony & I (probably mostly Tony, actually) devised a trick way of imitating the cool contemporary U.S. fade paint jobs without having the spare money to invest in an airbrush. Since everyone ran M8As that year, we made a simple shaped cardboard mask that dropped inside the uncut shell, with a slight clearance all round, not actually in contact with the surface,only resting on the untrimmed vacform 'skirt'. We could then just spray through with a rattle can and get a very similar airbrush fade effect, usually with a 'Kovacs' style broad centre stripe already tape masked. Then all you had to do was finish off with a main body colour behind the fades. Here, Tony shot a pale green through the cardboard mask, backed it with darker green, probably an emulsion paint colour, then took off the centre tape mask and brushed on the red. All the lettering and panel lines were done with Humbrol white and an OO brush if I remember right. We went into small scale production of these and sold loads to people at Vineyard. Although I remember he got justifiably mad with me when I flooded the market while he was away on holiday with his family (Hayling Island I seem to recall...). Tony used to hand paint a lot of interiors too, and sold them through the counter at Tottenham. Don't know why the drver's head on this one is unpainted. Maybe it was a hip 70's reference to artificial mind enhancement practices...
Tony is still keen to track down the Model Cars issue which shows him in the subsequent Tottenham open final, wearing a top hat made out of bacofoil..... All the rage then, I promise. If anyone has it, we'd both be very happy to hear.