Discussion Starter
·
#1
·
Well today, the last major items were completed and after almost 10 months, my first attempt at routing a track is up and running. It took working weekends and late nights, after the kids had gone to bed, but things have finally paid off.
Thanks to the kindness and willingness of others to share their experiences in this forum, tit works (I'm still shocked it does!)
Some big thanks to:
- Luf for his inspirational Targa Florio track, routing kit, DVD and website (www.oldslotracer.com)
- Steve S of Area51 fame for his top notch driver stations, his willingness to listen & answer (stupid) questions and above all else ~ his service! (www.slotcarcorner.com)
- Martin of San Phoeno fame for his informative tree-making tutorial (www.sanphoeno.com)
- 'Bastumannen' for his Targa Lestrell guard rails
- The British Slot Car Racing Association for their how-to's re: track design, marshalling, and sightlines etc. (www.bscra.fsnet.co.uk)
Track Details:
Track Name: Tanglewood Targa
Track Type: Routed 3/8" MDF
Elevation change: lowest point to highest point is about 20"
Track Length: 63 ft (red and green lanes); 57 ft (yellow lane) ~ all lanes drive approx. within 1/10th of a second of each other
Average Lap Time: 10.6 sec
Best Lap Time to date: 9.931 on middle lane (stock Fly Ferrari 512S - not tuned)
Controllers by Professor Motor
Driver Stations by Steve Sawtelle
Power Supply by Pyramid PS26
Track Lighting by Model Power 6081/6082 (approx. 30 lights in total)
Track Lighting Power by Powertech 2amp power supply
Track Timing by Trackmate (Slot Car Timer for Windows v5.5)
The track was 'broken in' on Sept.15th when 7 of us raced on it (without timing software, the power relay, or infrared lighting). We're all newbies to racing, but fun (and few drinks) were had by all. Since no lap timing enabled at that point, so it was more of test drive more than anything else….
From preparing the area in the basement to the track construction and scenicing (still some to come), I would like to thank my brothers-in laws Jeff for hooking up the extra electrical outlets & lights & all the IT support, my father in-law and bro-in law Paul for the drywalling (and soon to be farm houses, right Paul?!), my 2 kids for their interest - especially my 3 year old daughter who has a blast "driving to grandma's house" on it. And most of all - my wife, for her extreme reserves of patience.
'Birthing' the track was just that - months of hard labor but I don't regret the time it took to build it, as having a hobby sure makes you forget about stress of work!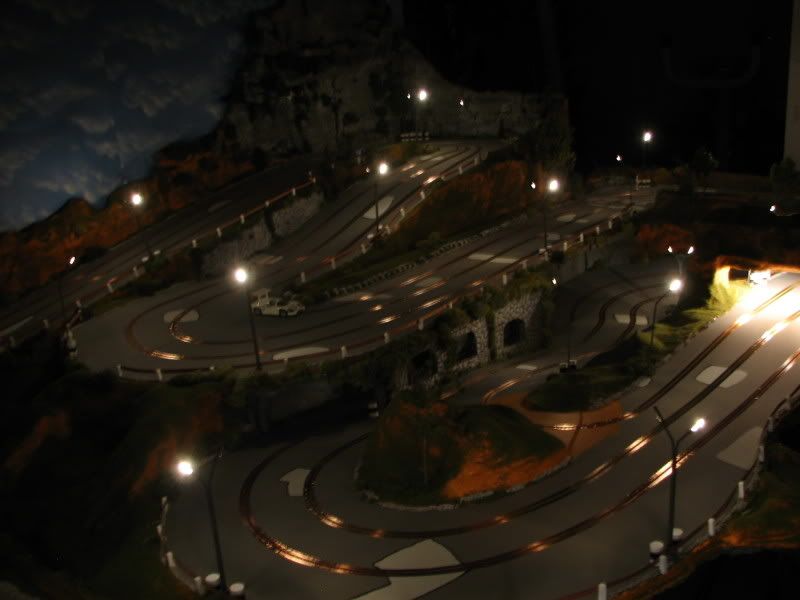 Hope you like it !