Discussion Starter
·
#1
·
Hello Everyone!
I have joined this forum back in 2007 (
My first hallo
) and since then did not realy spend time on this hobby.
In June this year I decided to unpack my set and to make it into something more usable and permanent.
I started off by deciding on the maximum size of the layout to fit into my store/tool room.
Space available was 2.4 m x 3.6m. Thus off to the timberyard and a few days later I concocted 3 tables (2.4m x 1.2m each) on tressles, moved and bolted them together, and had my table.
Then I started to play around with different layouts, using all the tracks that I had (including some old classic tracks from 1990).
Having a basic idea of what layout I want to settle on, I used Sclextric's Track Designer to come up with a layout.
I then spent some hard earned bucks on the tracks that I shorted and got to this: (My cell phone's camera - or me - do not make good quality photos - apologies)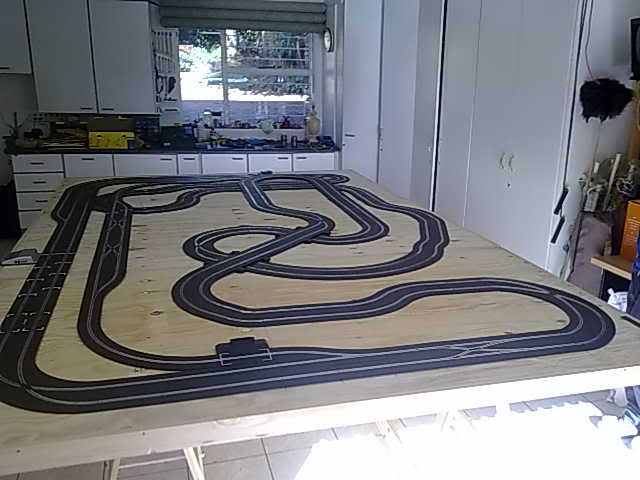 The layout in Track designer:
The final track as it now lays is 27m (89 ft) including the pit lane of 4.8m (16 ft).
Then I started building on the levels, bridges etc, but I have unfortunately not taken any more pictures as I went along, but will take some and post it later.
A few pictures that I have...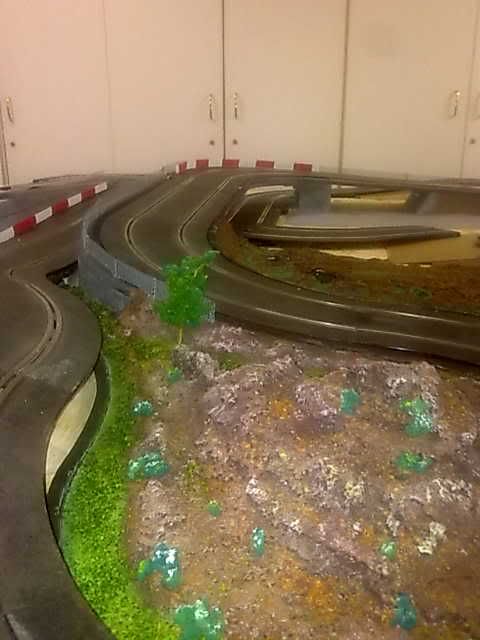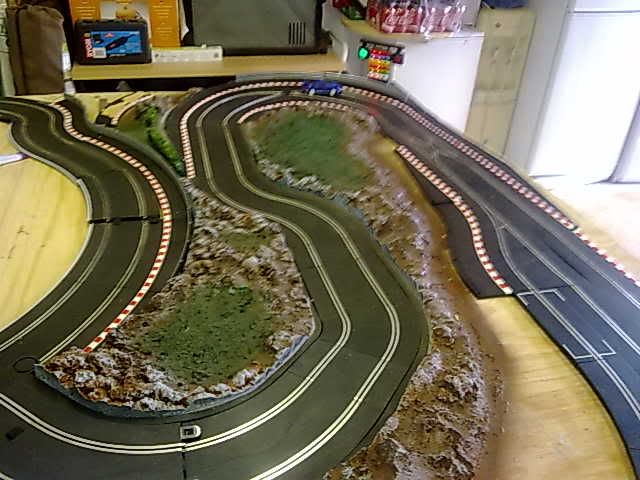 I have imported (not available in South Africa) my Advanced 6 car PB from Scalextric in the UK and received it a month ago (within 4 days after placing the order - great service!)
Now I have the old 6 car PB and the new one, and in the past week I have split the starting track and sensors from the powerbases and did the ABAB mod according to
PB sensing main straight AND pitlane
- Thanks RicoRocket! Photos to follow in this link.
I am using the old PB starting track as a lap sensor at the end of the pit lane.
I have done some other mods to existing track pieces and will share my experiences with the Forum.
More later....