Discussion Starter
·
#1
·
Hay All...Been working on my track for the last year or so....Just don't have a lot of time, so I did what I could when I could. Its a Carrera Digital 132. I love scenic tracks but stuffing the most amount of track in my 11'x 6' area was my 1st priority. In hind site, I should of gone with Scalextric do to the smaller foot print but whats done is done. I have some build picks....If I can get them uploaded.
What a mess
Using 1/4" ply for tunnel & back elevated section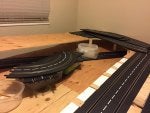 Using 1/8" HDF "AKA" hard board for elevation change sections
For boarders, using 3/8" foam board floated on top of scrap 1/8" HDF using Liquid Nails (construction grade adhesive)& Holes are for mounting wooden fence
Got to do some testing
Added a hump in bottom section or "AKA" Carrera ramp bridge.
Started a little Landscaping....looks bad doesn't it.