Discussion Starter
·
#1
·
48 years ago, when I was a small boy, the Matchbox Superfast No. 74 Toe Joe was added to my collection of Superfast and Hotwheels cars.
Whilst Toe Joe was not very good on the Hotwheels track and despite its irritating name (why Toe - why not Tow - it still rhymes!) it became a favourite of mine due to its futuristic styling (remember this was 1972) and lurid green colour.
The original was lost many moons ago but I was reminded about Toe Joe earlier this year when our club were discussing favourite diecast cars from our childhoods on a Zoom call.
So a trawl of eBay turned up this sorry specimen...
Not great but good enough for my purposes.
And my purposes?
And Lo did Mr Modifier reach into his box of tricks and withdraw a digital measuring thingy and he placed it upon the sorry purchase and in his spirit of abundance did he double the dimensions and he saw that it was good.
A lot of time 3D printing and...
Those of you who are familiar with my Milk Floats will recognise the chassis - albeit stretched by another 3.95mm
Custom printed wheels and inserts (so chuffed with the inserts)
Hand crafted windshield
Lights - orange on the roof, headlights and rear lights....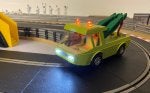 Like father like son