Discussion Starter
·
#1
·
Several people have hinted that they want to know how to make aluminum chassis from 3/4 inch aluminum square tubing. My apologies in advance for the size of this thread. This is simply how I make them. I take no responsibility for anyone doing their own thing. Always keep safety in mind before performing any machine work (safety glasses, etc...).
I bought this Airfix static model for five dollars at a flea market last year.
The paint is now two weeks old and safe to handle.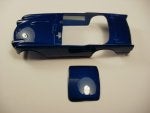 The first step is to measure the body. Choose a motor and gears. True the tires to fit the car. Figure out where the guide and body posts and axles should go, etc...
A local hardware store supplies the 3/4 inch square aluminum tubing (Home Depot). It measures 3/4 x 3/4 x 1/16 thick. Hiding somewhere in this material is a Triumph chassis. It's been marked and scribed for hole location.
A good drill press, with a precision vise, on a compound table (precise XY axis movement absolutely required). Best speed is slow (600 rpm).
I drill the body posts first. Tools required. 90 degree countersink. 0.121 inch clearance drill for a 4-40 screw. Number 2 pilot drill.
A good machinist always uses a pilot drill first for a properly centered hole. It can also be used as a locator for pin point accuracy on the cross hairs. You can make a small dot and see how accurate you really are. If you are off a little off, you can make a correction and the drill bit won't wander because of the large shank. Plunge the pilot when it's spot on. No oil required for the pilot drill through aluminum.
Small dot to test the accuracy.
Looks good. Plunge the pilot drill through the material. Then without moving the part, table or vise. Change to the 0.121 inch drill bit, use a drop of oil, and drill through.
Without disturbing the part. Change to the 90 degree countersink and start the process. I test fit the screw to make sure it sits just below the surface.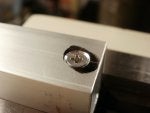 The XY compound table lets me move the part without removing it from the vice keeping the part square at all times. Repeat for the other body post hole.
The guide is next. Tools required. Number 27 drill bit. Number 2 pilot drill.
Same exact instructions to drill this hole but no countersink. Pilot drill first (dry). Drop of oil. Then number 27 drill bit after (for Slot It guides). When you have just the right pressure on the drill bit. The material comes out in two large twisted strings.
More to come...