Discussion Starter
·
#1
·
More of the collection going.
A Carrera D Type Jaguar, tested when bought many years back and recently tested again. I think 'as new' is a reasonable description.
£22.50
A mostly Scalextric Gurney Eagle Weslake. The body is pretty much standard, the motor is a 20K Sport part, the guide is Slot it and the driver is a resin part. Built for non-mag racing, the rear tyres are urethane.
Supplied with a non-fitted traction magnet and a couple of spare pairs of rear tyres. NB. The front tyres are a little cracked, not really shown on the picture.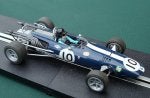 £25.00
Scaley Lotus 49 parts. I intended to build these up as an option to the Eagle. New Scalextric parts, upper body, lower body together with front and rear axle assemblies.
£12.50
All plus postage at cost.
Peter.