When I`ve been posting pics of cars a few people have asked me to post an overview of my Scalextric layout.
This is the best I can achieve with my camera. Everything is vintage, even the throttles. Each lane has it`s own power supply.
The layout is 26 years old. It has moved house once with me. Maintenance is by cleaning the rails with an oily rag & dusting the plastic only. No power loss at any track point & not a single power tap anywhere!
Cheers,
Kev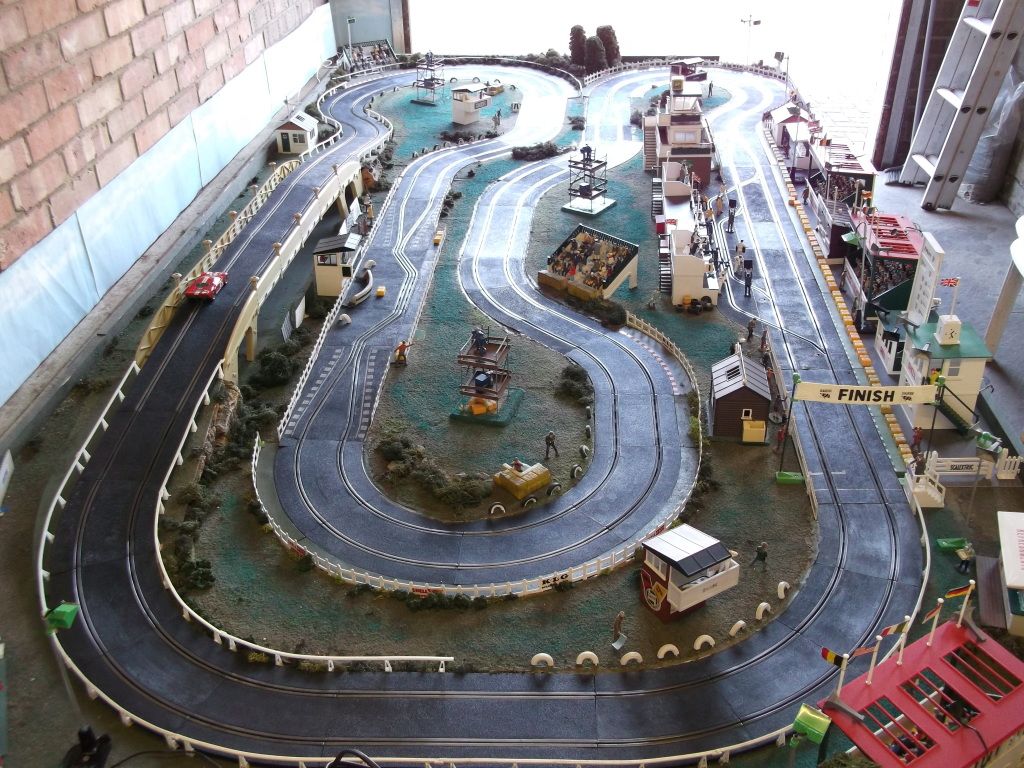 Included on the layout.
K703 Control Centre.
K704 Marshal Hut x 4.
K705 Open Grandstand x 2.
A201 Event Board & Hut.
A202 Racing Pit x 2.
A203 Owners Pit & Stand x 2.
A208 Control Tower.
A209 Grandstand(green, red & white) x3.
A211 First Aid Hut x 2.
A228 Refreshment Kiosk x 2.
A233 Entrance Building (out of shot).
A238 Timekeepers` Hut.
A221 LapCounter Building.
F302 TV Camera Crew & Stand x 3.
F303 Starter On Rostrum.
A240 & A241 Track & Building Lamps x 15.
PT90 Pit Stop Track.
A229 Grande Bridge(extended to 5 feet).
PT 77 Goodwood Chicane.
A212 Start/Finish Banner.
A216 Twin Loud Speakers On Stand x 2.
(Back curve is a chicane consisting of 6 x PT85 curve chicane track pieces)
Also original Scaley fencing, paling fencing, rubber marshal posts, rubber haybales,plastic haybales, gate units, half tyre markers, spectators, mechanics , pit name boards ect.