Discussion Starter
·
#1
·
Hi All,
Over the past 4 or so months, I have been gradually accumulating track and parts to build a four lane track. The drawbacks to the track are that I currently live in a flat with a very small lounge so space is at a premium. However I do want the track to happen and I also want to be able to have friends over to race rather than just have a track for testing and pootling round on my own.
Therefore the circuit is going to be a permanent layout on a tuckaway table. Original measurements of the useable space suggested I could have a table measuring 7' by 4' which is a 1' shorter than the usual 8' by 4'. A second measure proved this to be ambitious in the extreme and therefore I settled on 6.5' by 4'.
I'm using my lifelong favourite Tomy AFX track to make this beast. My initial experiments with 4 lanes were done before I really had enough 12 and 15" corners which left the inner most lane as an absolute gutter as can be seen below.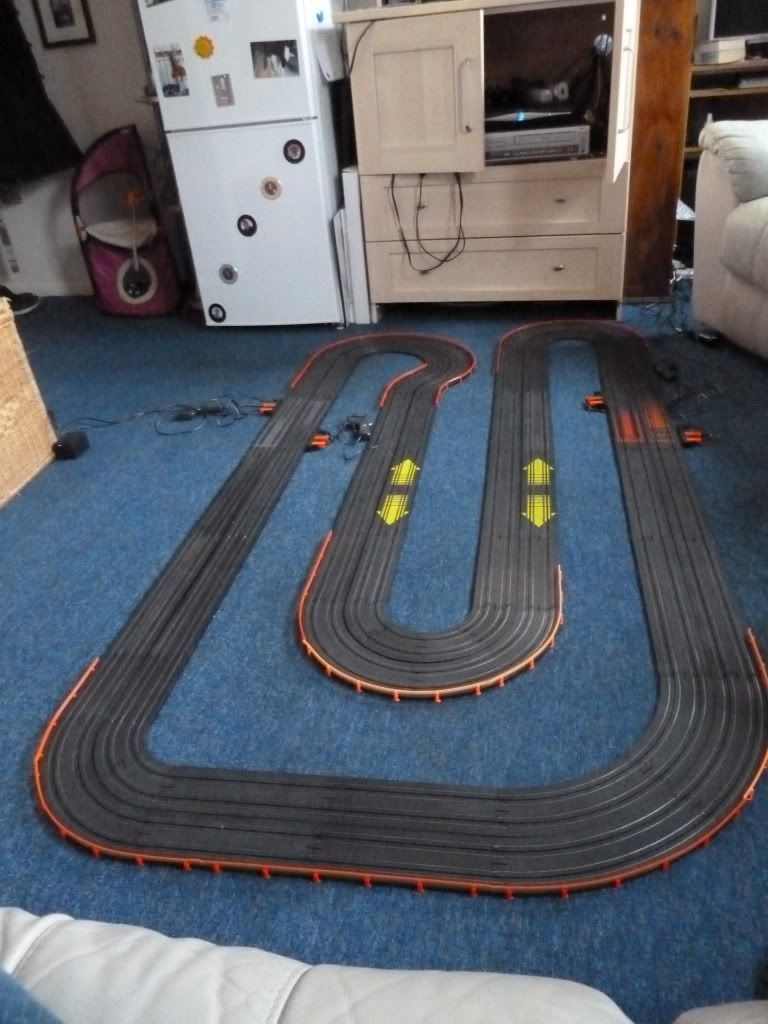 Clearly this was never going to be good enough so I continued purchasing track and raided my original track collection from my parents. Now I had lots of 12" and 15" corners...as well as the obligatory 60 x 9" corners and 80 loop sections!!
A visit to a Brighton wood recycling project was made in search of a cheap 8' by 4' plywood board which I could then cut to shape. Instead I found two MDF sheets mounted to a softwood frame. So I snapped that up for an incredibly reasonable £20 and one quick trim with a saw yielded me my 6.5' by 4' table.
Here is mounded up with track sections while I was having a bit of a count up!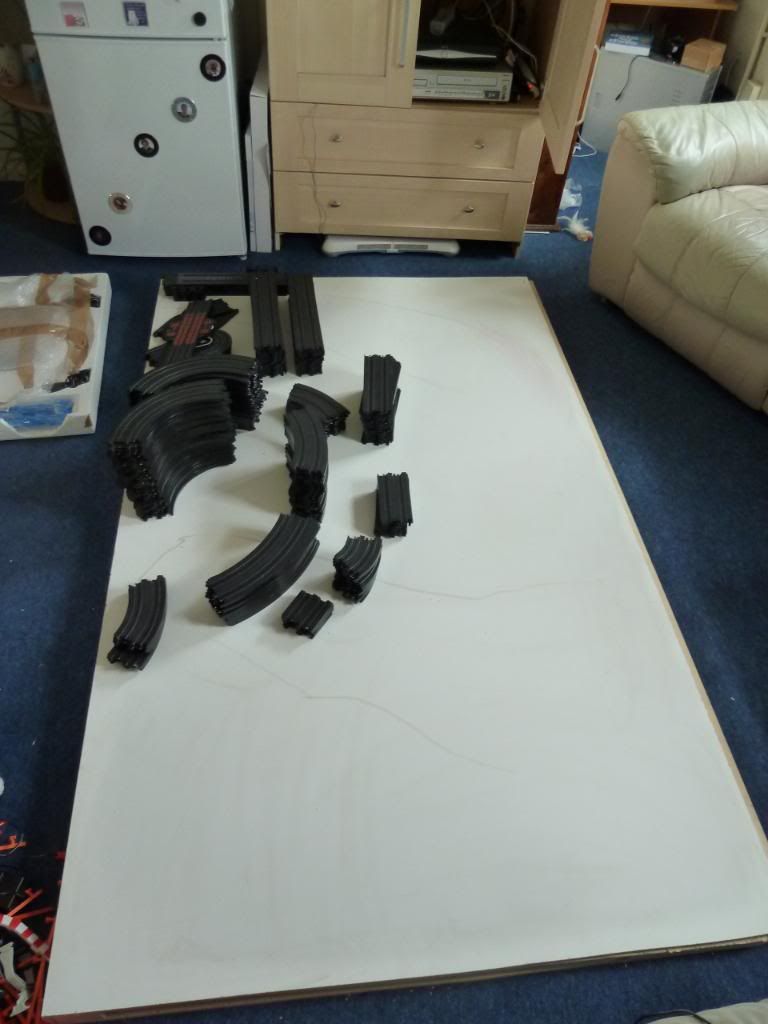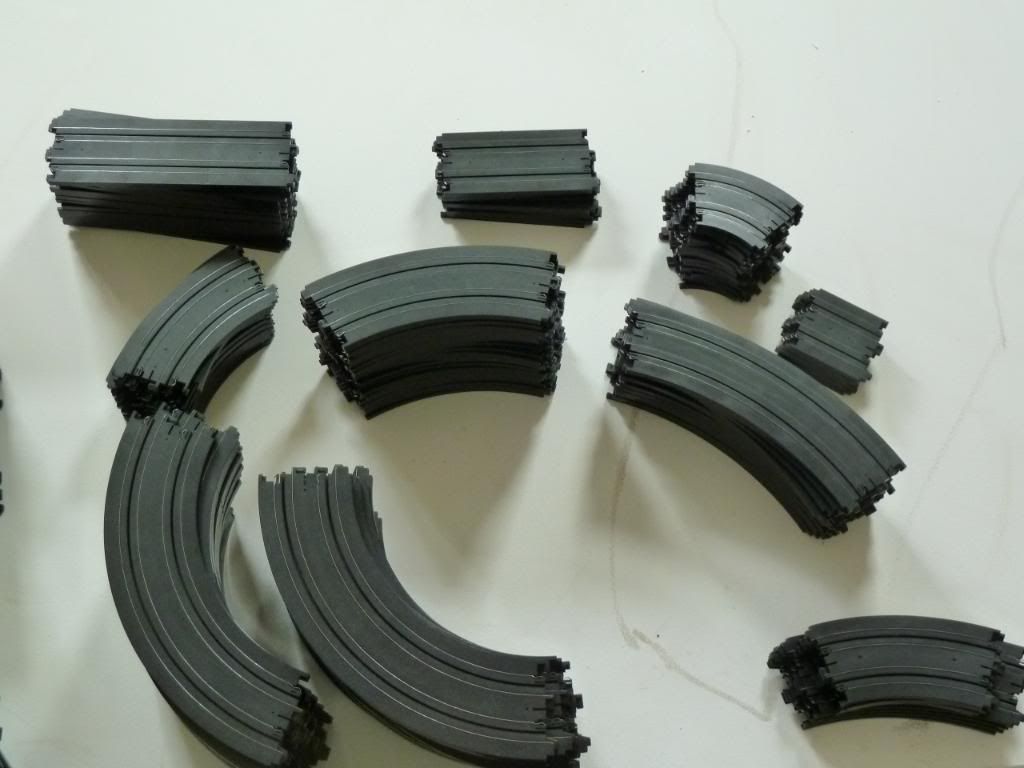 Mmmm, track!!
Obviously it would be pointless going to all the trouble of getting the board to just leave it on the floor so some form of legs is required. My initial thoughts were folding banqueting table legs but the table is quite heavy already (it's one downside) so I've decided to go with a pair of folding workhorses. These should cost me about £20 as well. As I say, the table is heavy which is a pain as it is stored long side up in the spare room and has to be dragged through to the lounge short side up. My solution is to mount a skateboard axle and wheels to one long side and a handle on the short side for easy transport. Bingo!
Anyway here is my second attempt at laying out a 4 lane track. I've kept it pretty simple. An inside hairpin for each set of lanes, sweeping constant radius in between the straights and the decreasing radius corner for some interest and challenge.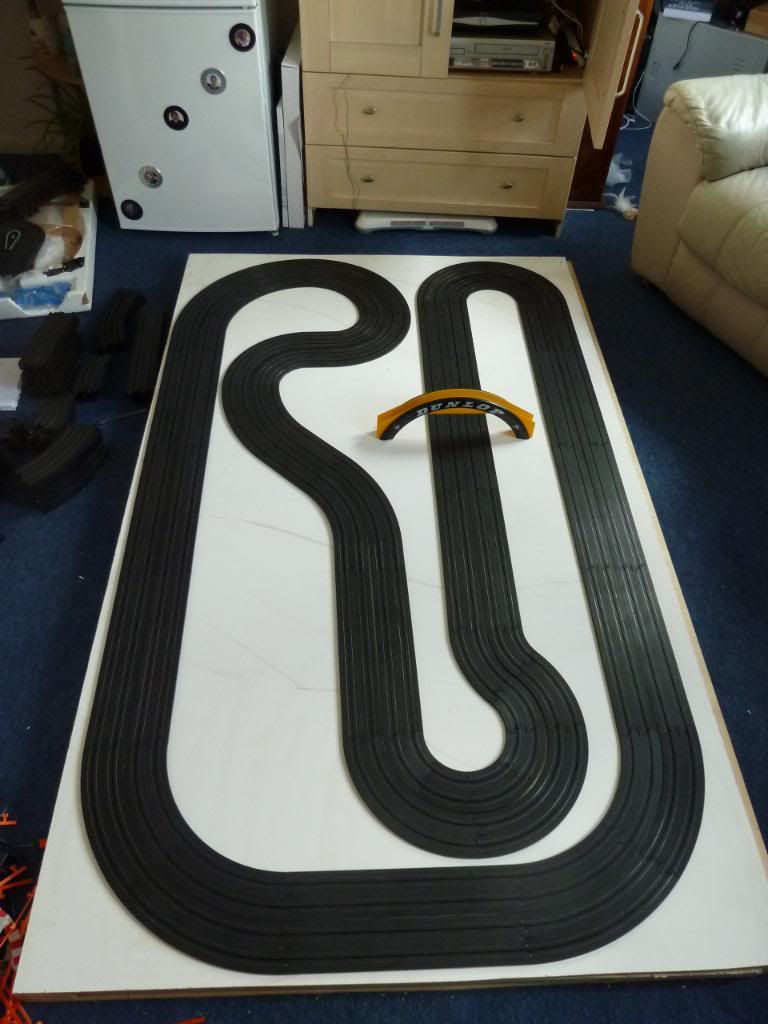 And here are a few shots of some of the cars on track.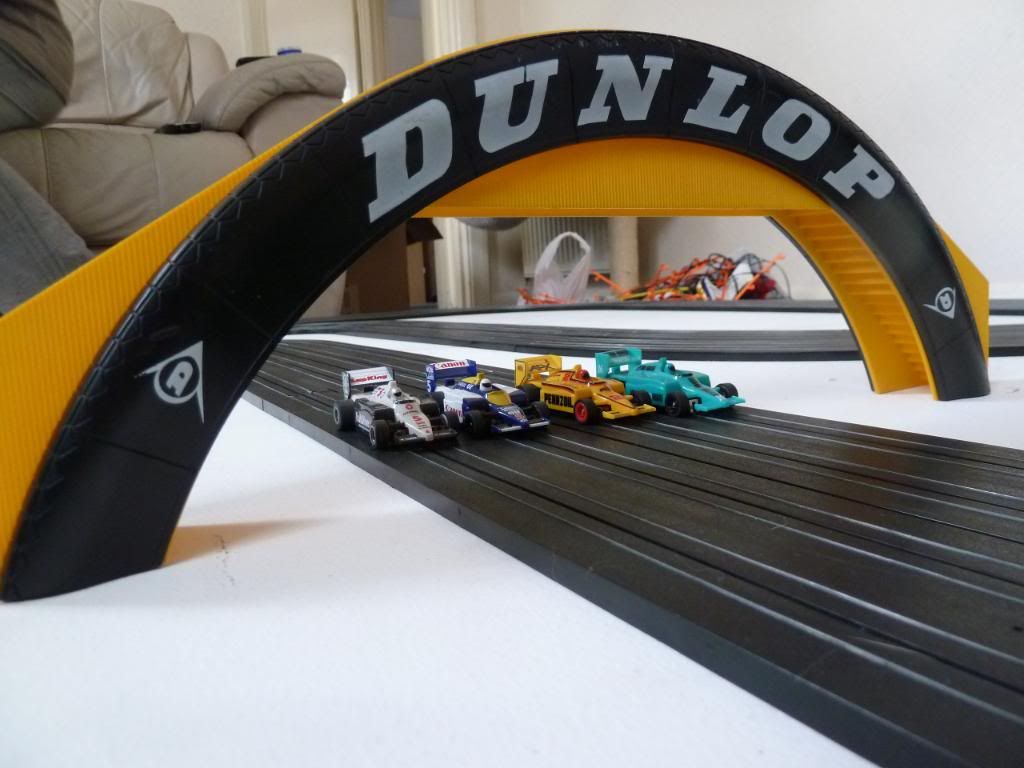 Turbo F1s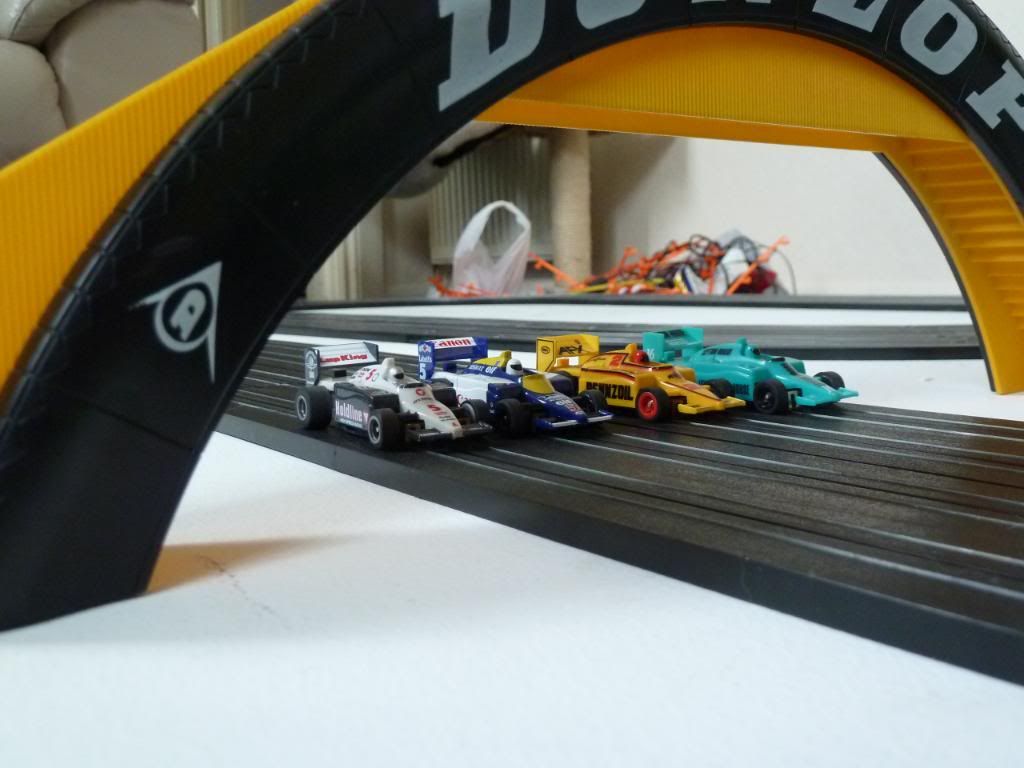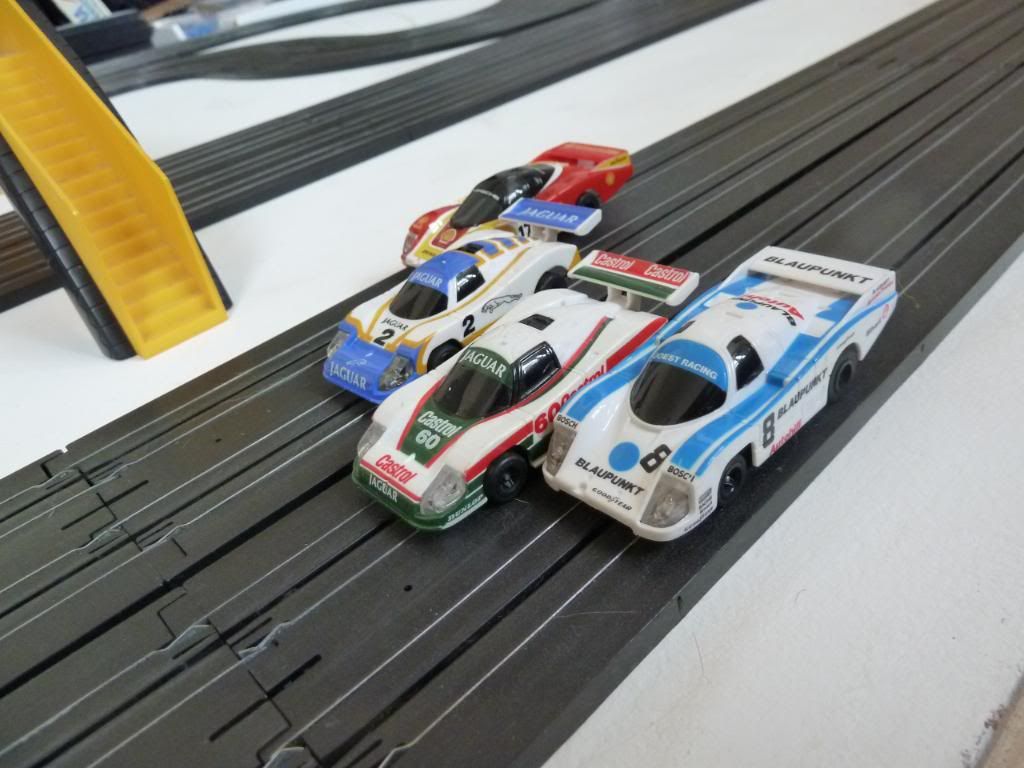 Group C Lighted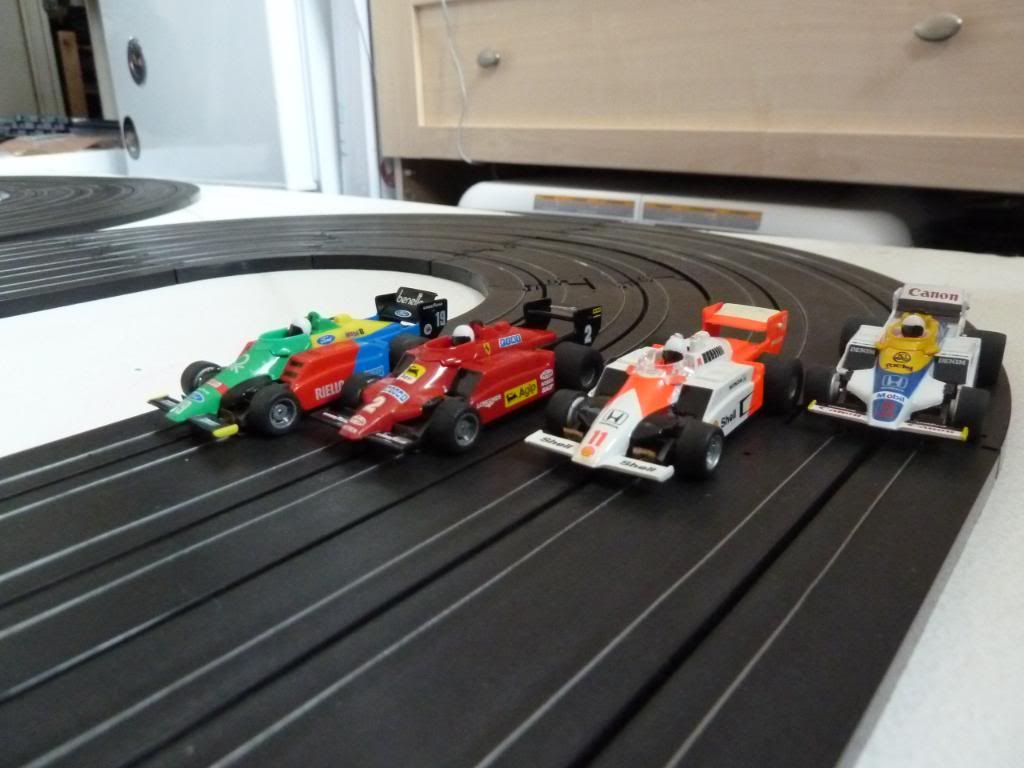 Tyco F1s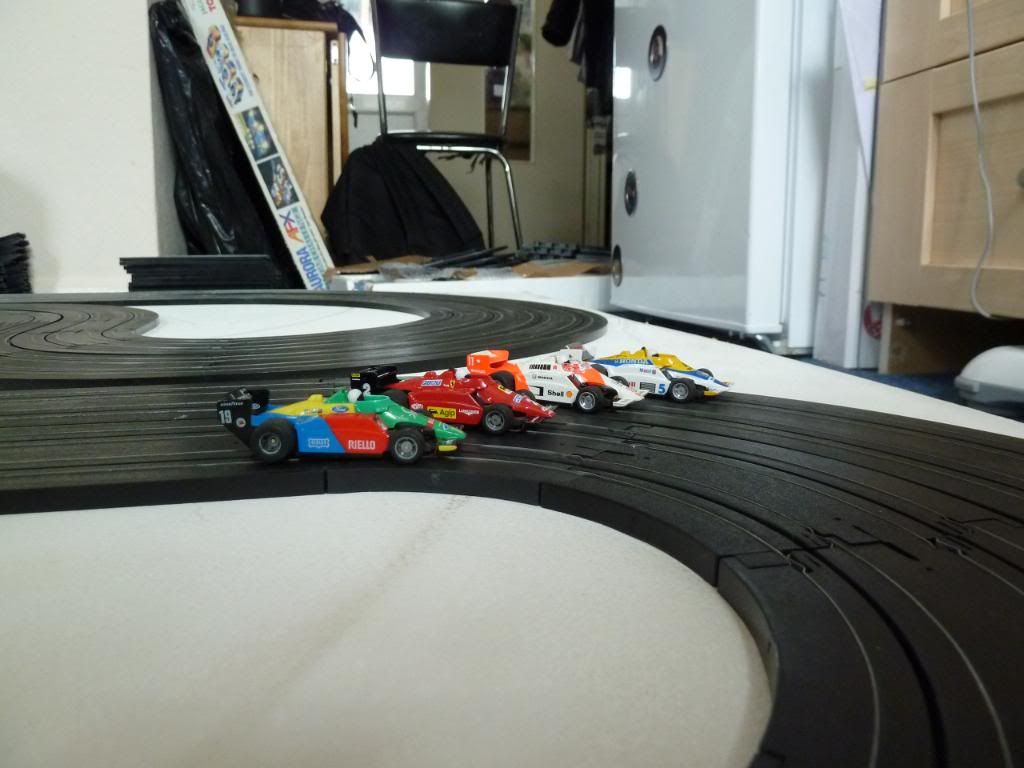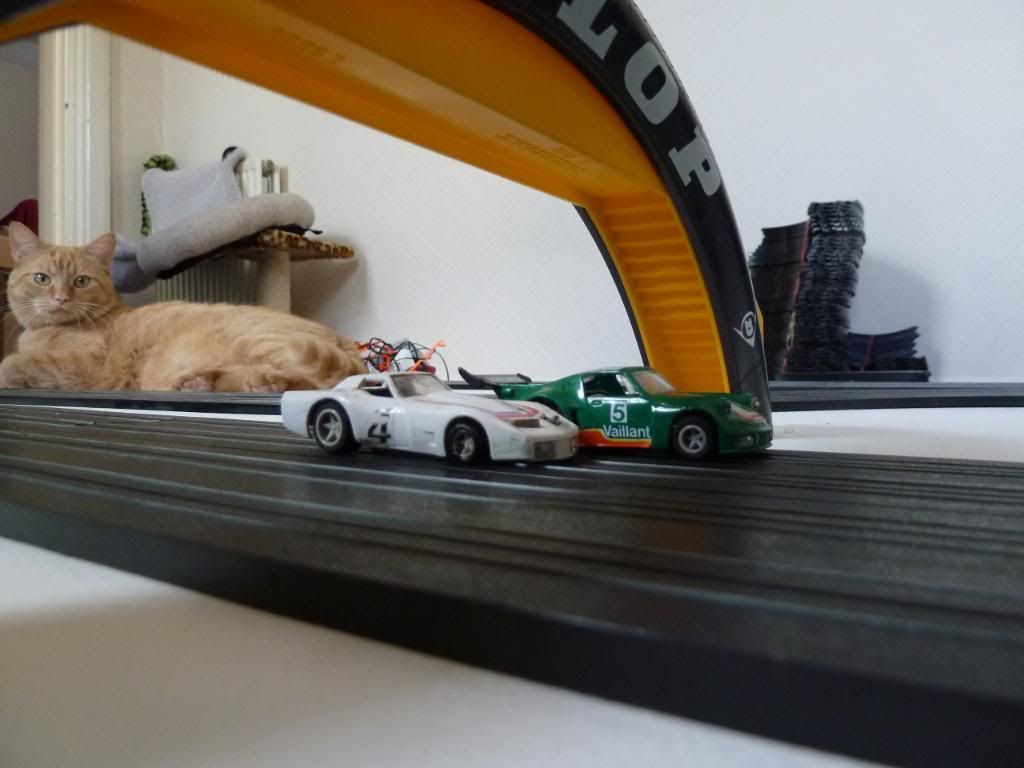 Matchbox Powertrack cars - Just for fun and with giant cat not to scale!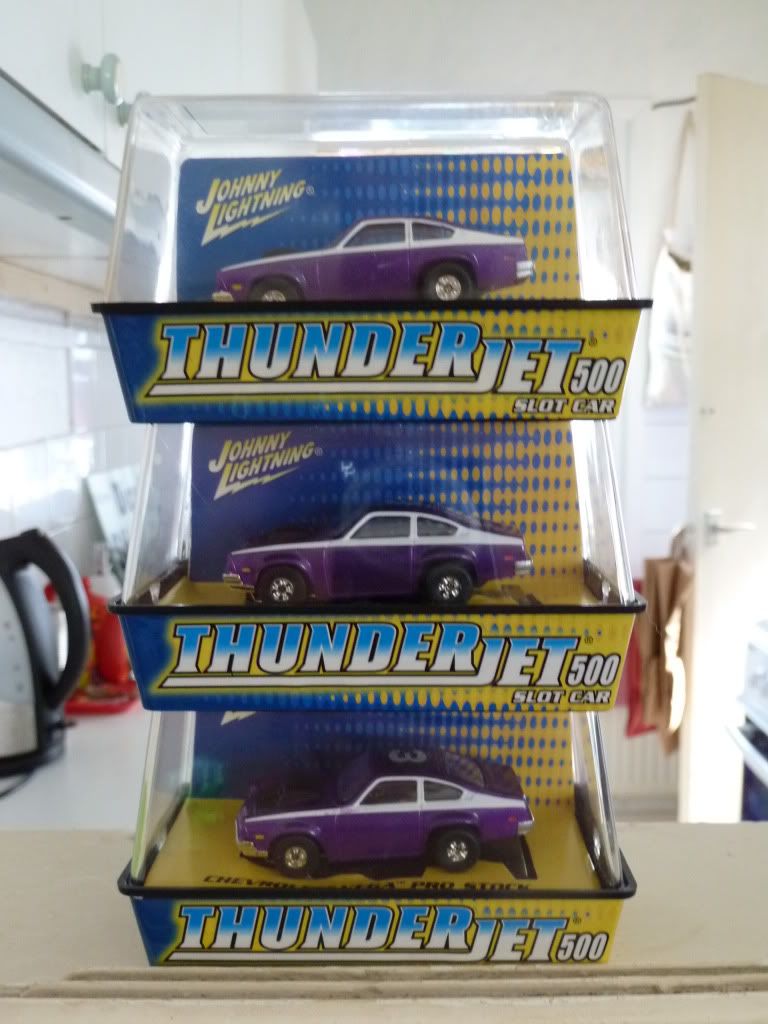 A trio of T-Jets. One more needed and then lane based paintjobs.
Acquired so far I have power supply, controllers, plugs, driver station boxes, Dunlop bridge. Woodcote is kindly helping me with the timing system and hopefully I can tempt him with Guinness to complete the wiring up of the track. Not long to go now I hope!
Cheers
Gareth