Good morning!
My first post, and my story seems very similar to a lot of people's on here .... I used to worship at the throne of Scalextric as a kid, owned all sorts of track, buildings and cars that my Grandmother used to buy for me every birthday and Christmas. My well worn Scalex catalogues were my most read books, I think. In my late teens, I needed cash for something or other and sold the whole lot for 30 pounds - for which I am kicking myself still.
A few years ago, me and my mate Chris were facing a Christmas season stuck in a house in Detroit, so went out and bought a Scalex set and a bunch of alcohol, and my slot car dreams were temporarily reborn. This set sat in storage for a few years when I moved out to Seattle, until a few months ago. Sadly my Grandmother passed away, and I felt the need to get the track out for old times sake ... and the fire was lit once more, not only for me, but also for my 13 year old step son, Austin.
I have always wanted to build a full landscaped layout, but always found it a bit intimidating to be honest. Well one day I was messing around in the garage and decided to attack a piece of MDF with the table saw.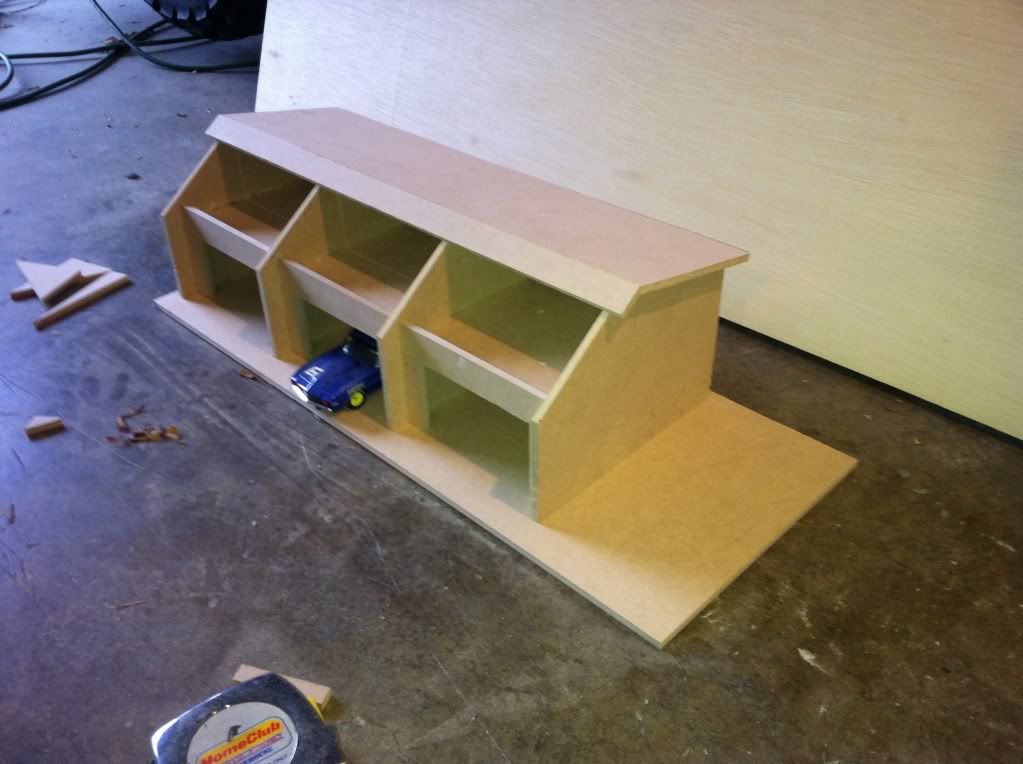 I measured nothing, just used the Camaro as a guide and hacked away.
Made some terrifically out of scale stairs, and threw some paint at it. My first every scratch built building!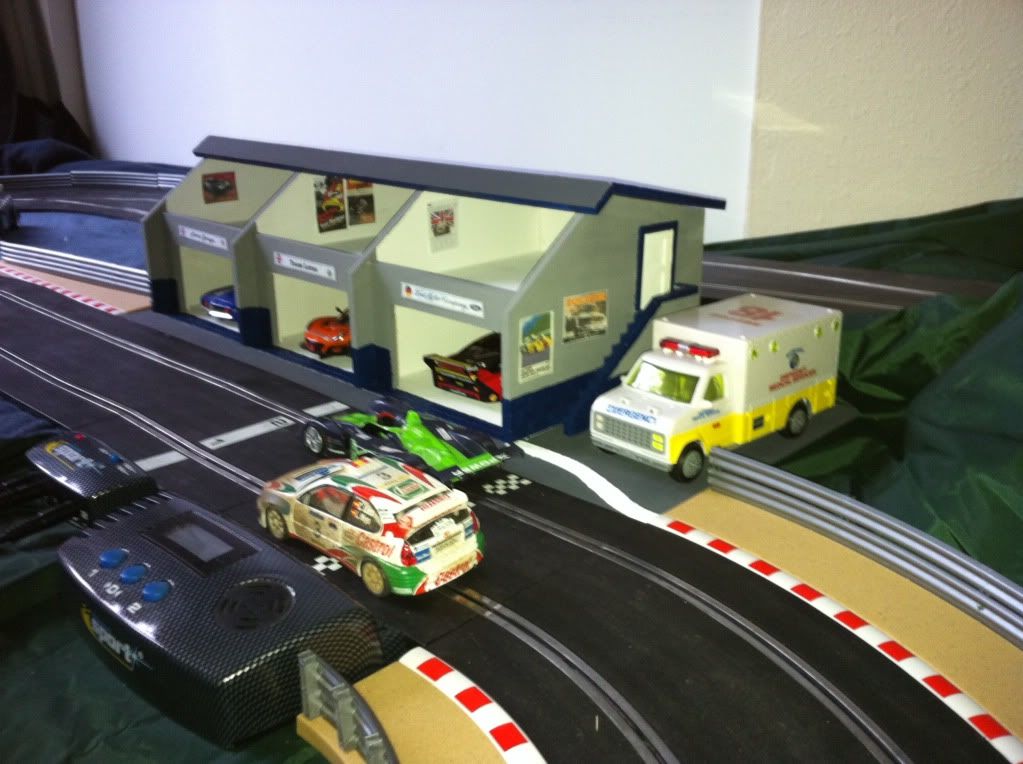 Christmas came and Santa brought me some shiney new cars.
Took the dog for a walk, and came back with an armful of tree roots and moss. The roots need some work, but may turn into useful trees.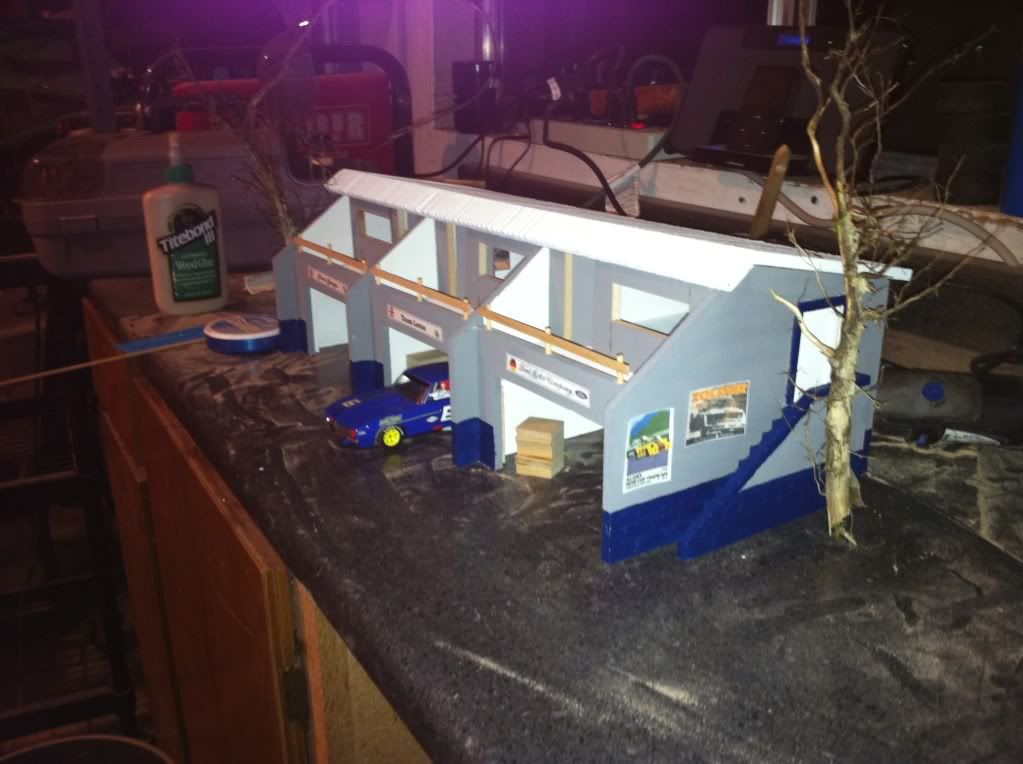 Another quick experiment with the table saw and the dremel ...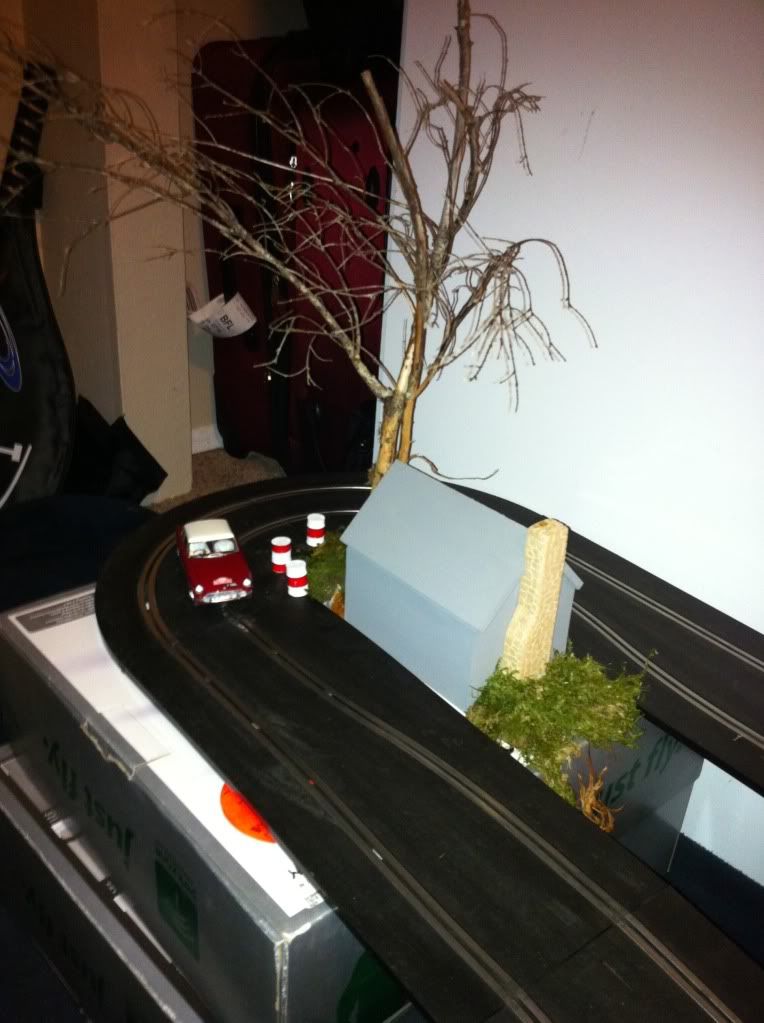 So now I am at the point where I am very tempted to just have a go at the whole landscaped track thing. My track is on the floor in the store room, which is beginning to annoy - my aging back just ain't up to it, and the dog keeps wandering in and stealing stuff. I have space available to make a 8' x 8' L-shaped table, for a rally style track. Most likely a plastic track for now, though the amazing tracks I have seen on here make me want to do a routed hillclimb at some point.
Any comments or encouragement much appreciated!
Cheers,
Whit.