Discussion Starter
·
#1
·
I was just looking through issue No. 58 of the American magazine Model Car Racing, published and edited by Robert Schleicher, who's been around the hobby a long time! There was an article that caught my attention, by a guy named Voytek Dolinksi, who worked at Auto Hobbies with Bill Sippel back in the early 60s. That name rang a bell, because a few years ago we were talking about the invention of the swing-arm pickup, also called the droparm or fallaway guide. And I happened to see this article in the February 62 issue of Car Craft, an American custom car and hot rod magazine that also had regular model car coverage for a couple years (61-64).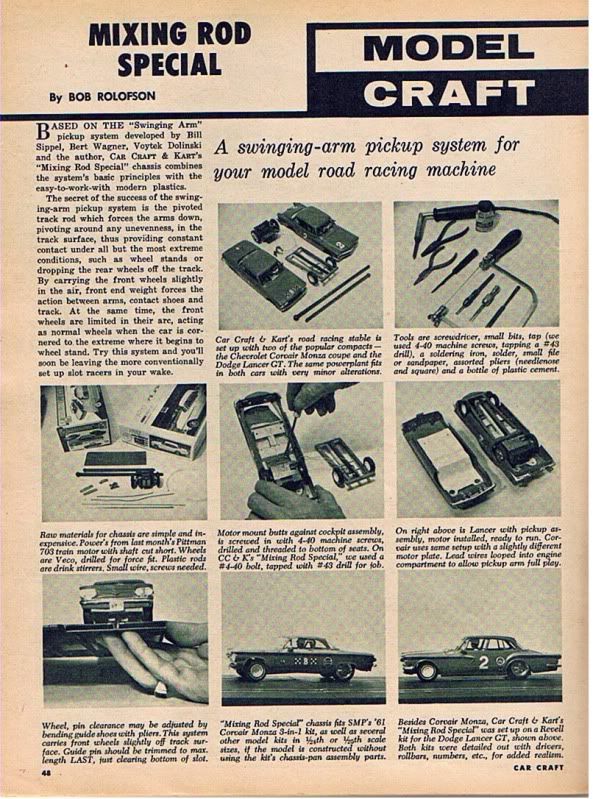 So it turns out that Voytek was one of the "inventors" of the swing pickup! I asked Robert to pass on the article to him for any comment. This was also about the time of the first organized electric slotcar drags, by Rod & Custom magazine, so I would have thought that the first swing pickups were developed for these dragsters, but the period photos are a bit vague - and no shots of the chassis bottoms!
So for all we know, Voytek et al did really invent the swing pickup.
Anybody ever see a swing pickup on a rail racer?
Don